Ask us, we will answer you
Range of extrusion lines
The basic input materials for manufacturing ropes and cords are fibres and tapes. LANEX has its own extrusion lines on which these polypropylene fibres and tapes are produced. Thanks to this machinery, which includes nine lines for filament production and three extrusion lines for tape production, we are able to respond quickly to customer demand.
The final products of these fibres and tapes can be used in many industries, for example:
car - straps, belts, nets behind seats and in the trunk,
textile industry - laces, cords for sweatshirts, straps, sewing threads, packing ribbons, carpets,
sports industry - football, lacrosse or advertising nets,
food industry - salami cords, filter fabrics,
agriculture - nets for pheasantry, nets for hay for horses,
construction - barrier nets.
We offer a broad product portfolio that is constantly being innovated, and this is thanks to the work of our development department and ideas from our clients.
The filament cross-section is either circular or also triangular. However, the fibre can also be hollow.
Watch a video about high tenacity PP multifilament yarn Multitex:

In addition to standard polypropylene tape, we also offer tape with different material composition for extra resilience. Such tapes can, after subsequent twisting and oiling, be used, for example, as sewing threads.
Fineness, UV stabilization, colour shade, winding (in the case of fibre) and fibrillation (in the case of tape), additional twists, thermofixation, twisting into the desired constructions and packaging - all this can also be tailored to the customer's requirements.
LANEX has its own testing room where the input material, the product, at various stages of the production process and of course the final product are checked. It is subjected to many tests, e.g. determining the length weight (according to EN ISO 2060) or strength and tensile strength test (according to EN ISO 2062). Part of the production from extrusion lines is used for making of our own ropes and cords under the LANEX brand, TENDON and LANEX Yachting.
Because production generates waste and we care about the environment, we also own a regranulation line, this means we are able to further process all polypropylene and polyethylene waste and use it either for our own production or for sale. You can see how such a regranulation line works in the video in Advice and Tips section.
Products
Thanks to our extrusion lines, we can offer you a technical thread tailored to the application, all with a short delivery time. The monofilament and multifilament fibre in our offer is complemented by polypropylene tape or tape for sewing threads in several different colours, which can also be adapted to your requirements.
Advice and tips
Here you can watch a video about the regranulation line in Lanex or read about UV radiation and its effect on products.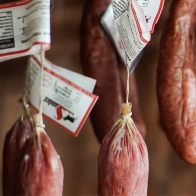 Download
Download our colour swatches or basic technical information about our products to make your choice easier. OEKO-TEX certification for multifilament fibres is also available.