Ropes for general use
Ropes and cords are used in a variety of industries, from agriculture and construction to food processing and textiles and entertainment. Thanks to our own development department and certified testing facility, we offer a wide range of products of the highest quality. LANEX also has its own extrusion lines for manufacturing polypropylene fibre, allowing it to respond flexibly to customer demand.
Natural materials, such as sisal and jute, as well as man-made fibres are used in the production of ropes and cords. More information about the materials used can be read HERE.
The ropes available are:
suitable for wet and dry environments,
UV resistant,
abrasion resistant,
floating and non-floating,
low-stretch and flexible,
easily knotted,
coloured and clear.
ROPE CONSTRUCTION: If you are looking for a rope that is low-stretch and has a circular shape, reach for braided rope with a core. For easier knotting, a braided rope without a core is best. If you can get by with simpler rope construction, the twisted rope is a good choice.
Products
In our wide range you will find not only ropes and cords, but also twine or ropes for special applications, such as elastic braided ropes or car towing ropes. The extensive selection of these products is complemented by a range of accessories to make handling ropes even easier.
Advice and tips
If you are not sure which rope material is right for your application, check out our overview of materials, their properties and suitability for use. We will also advise you on how to treat ropes and cords in the most appropriate way to maximize their lifetime.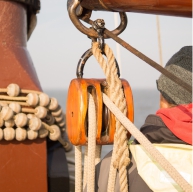 Download
Download a concise and clear summary of the specifications of the individual ropes from our offer, which you can easily send to your colleagues or business partners.